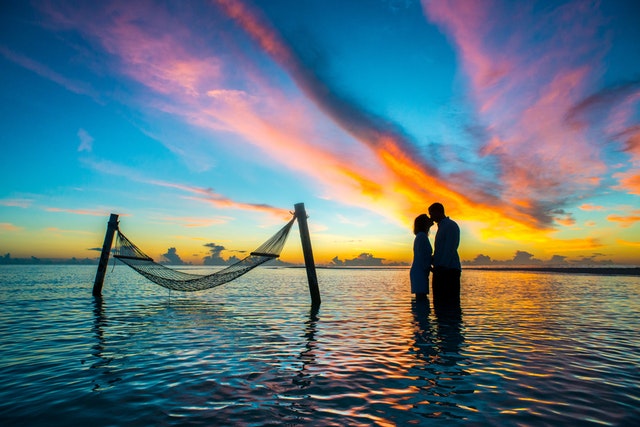 5 Of The Most Popular Honeymoon Destinations
Organising and booking your honeymoon is one of the most exciting parts of your wedding journey. It is the holiday of a lifetime and the perfect way to relax after months of wedding planning and enjoying time together as a new couple. Honeymoons still remain a huge part of the wedding experience, with 73% of couples planning to take a honeymoon after their wedding. 
But, with so many destinations across the world, choosing your honeymoon destination is no easy task. Whether you're planning a city break or two weeks away from it all, narrowing down your choices to find a destination to suit your needs is tricky. With that in mind, here are 5 of the most popular honeymoon destinations you can choose.
The Maldives
The Maldives is perhaps the most popular honeymoon destination, with around 12% of married couples heading there after they've said: "I do". With sparkling clear oceans, private beaches and romantic overwater bungalows, it's a clearly obvious choice for the holiday of a lifetime. 
Located right in the heart of the Indian Ocean, The Maldives is perfect for a relaxing break and is packed full of things to do, from snorkelling to yoga on the beach. March is believed to be the best time to go, with an average temperature of 29º, which make it the hottest month. 
USA
If you and your partner are looking for a little adventure, then America is a popular destination choice for newlyweds. With around 7% of couples choosing the US of A as their honeymoon destination, there are many different things you can do.
America covers quite a large chunk of the globe, so picking one destination only can be a brainteaser. Self-driving tours are hugely popular for newly wedded couples and offer fun, flexibility and the opportunity to try something new. Head to Route 66 for that classic road trip experience, or go from coast to coast. There are plenty of beach locations from South Beach in Miami to the OC in California, whilst cities such as New York and Chicago are just waiting to be explored. 
Italy
If you're dreaming of a classic European honeymoon, then Italy is one of the most beautiful choices. The Amalfi Coast has become particularly popular with loved-up newlyweds looking to celebrate the start of married life. Whether it is the pastel-coloured cliffs, fresh pizza and pasta at every turn or the amazing wine that make Italy so wonderful, it continues to be a popular destination for honeymooners.
Base yourselves in Sorrento and take day trips out into Capri, Positano and Amalfi or instead head inland to Tuscany for a beautiful Italian experience. May is a great time to visit here as you'll be able to bask in the sunshine without tourists. 
Portugal
The Algarve is a great place for honeymooners as it is packed full of secluded beaches, luxury resorts and year-round sunshine. Situated in the south of Portugal, the Algarve attracts visitors from all over the world, all year round and has over 3,000 hours of sunshine each year and hundreds of miles of sandy beaches. No matter what you're looking for, whether it be soaking up the sun with a glass of fizz or taking a laid back hike, you're sure to find it in the Algarve.
Vale do Lobo is a popular place for honeymooners because it is one of Portugal's most luxurious resorts and is one of a kind. From stunning hotels, and luxury villas, Vale do Lobo has some great accommodation choices right in the heart of the resort which are perfect for honeymooners. 
The Caribbean
The Caribbean is a corner of the globe which never fails to be an unforgettable holiday, so is bound to be a wonderful honeymoon destination. If you're having a winter wedding, then this is a great honeymoon location as the best time to visit is in January. The Caribbean has something for all couples and there are plenty of honeymoon hotspots which are a must-visit, with great food, sandy beaches and a warm, welcoming culture.