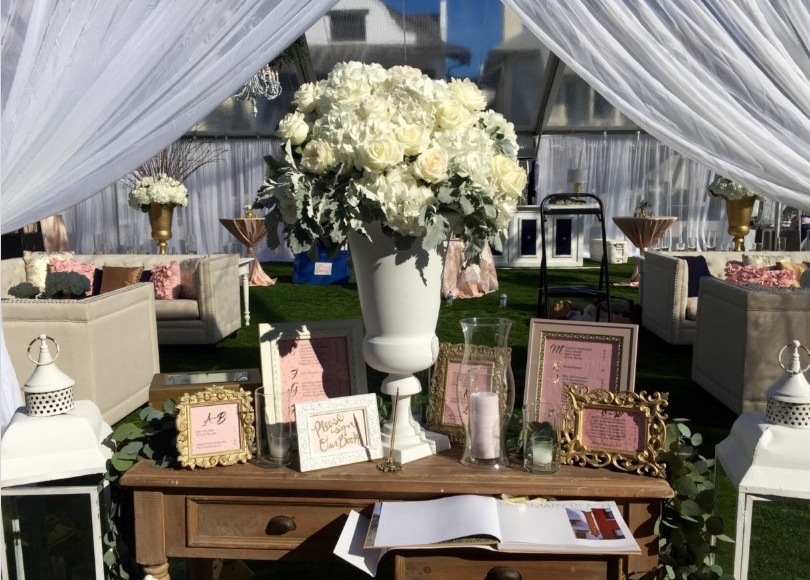 How To Decorate Your Wedding Reception By Yourself
Weddings are one of the most important and most beautiful days in a person's life. That's why most people strive for perfection. Somewhere in that rush for perfection, they lose the personal touch and their wedding ends up looking elegant and sophisticated but misses the warm and personal atmosphere. If you want your wedding to be truly special and unique, you should consider decorating the reception by yourself. This is a hard and demanding task, but it's also very rewarding. What's more, nothing's impossible with the right motivation and guidance.
Waking up the child inside you benefits everyone
Do you remember when you were a child and could make something great out of ordinary objects just with your imagination? Wake up the child inside you again, and find inspiration in your surroundings. Nothing's stopping you from decorating your wedding reception in the craziest and most creative ways, so don't be afraid to experiment.
Can those little cups be filled with candle wax and become cute centrepiece candles? Of course, they can, if you so desire. Look through a child's eyes and see the unusual ways to use the most common objects. If you can't get inspired, look to Alice in Wonderland for help.
Embracing the season is priceless
If you're looking for a cool way to decorate your wedding reception while staying on a budget, you should embrace the season. That means that you should revolve your entire wedding around the upcoming season. If you're getting married in winter, make it a winter wonderland. The logic behind this is simple.
Making a season theme for your wedding can prove to be original and interesting, but also saves you a ton of money. After all, most stores will have seasonal decoration for sale. There's nothing stopping you from using that to your advantage. You can scope out pretty centrepieces or wall decoration that goes well with your theme, but spend only a dime for the whole purchase. Remember, just because the decoration is cheap, doesn't mean it'll look that way once you incorporate it into your theme.
Can prove that less is more
One of the hardest parts of decorating a wedding is finding the right centrepieces. Most often they're nothing special and don't catch anyone's eye, but end up costing a lot. Instead of wasting your money on that, go for the vintage theme and get some metal cans. They can be found almost anywhere and look very darling and cute when a bouquet of wildflowers is added to them. Additionally, you can tie a bow tie around every can, and make it even cuter.
These centrepieces won't take up too much of your time or money, but they'll be very memorable and original. The simpler you go for, the classier it'll look when it's done. You can even ask your guests to give you can metal cans, and watch them light up when they realize what an amazing job you've done with something they were going to throw away.
Old photos add some soul
To make your wedding personal and emotional, use old photos you have with your spouse. Commemorate your relationship by digging out every old photo of the two of you and hanging it up at your venue. You can use some string and wooden clothespins to decorate the whole room with the photos. This is a good way to make a story out of your photos, too. Another way is to frame the photos and set them on tables. That way you're creating a homey and intimate atmosphere for your guests.
Whatever you choose, your reception won't lack any soul. Your guests will surely love getting to know you and your relationship better. It'll make them feel like they're part of your love story and will, therefore, make them enjoy your special day even more.
Flower arrangements make everything better
Floral arrangements have quickly become one of the most popular wedding decorations. As gorgeous as they are, their beauty just becomes intensified when local flowers are used as they contribute to the authenticity. That's why you'll come across some of the most beautiful arrangements in Australia, due to its astounding nature and a wide array of flowers to choose from.
Instead of hiring a florist, you can ask any florist in Adelaide or wider for advice. This way, you'll be picking the flowers and arrangements but will get some professional guidance. Every wedding is different, and so is every couple, so it's very important to find the arrangements suitable just for you. That will ensure a personal touch, and the commitment will, in no doubt, dazzle your guests.
Drapes add class and romance
If you're looking for a classy, yet romantic wedding, you should get some drapes. They can be wonderful decorations for any wedding and will make the venue look dreamier and more appealing. The drapes should be hung from the ceilings for maximum effect. They work best in venues with high roofs which resemble rustic houses.
What's more, you can choose the ideal vibe for your wedding with the colour of your drapes. Opt for white to keep it tasteful and elegant, but choose a brighter colour if you want something more fun. Just be careful not to mix the colours so as to retain some class and provide lovely and unique décor. Involving drapes also mean you won't have to focus on table décor as much, as having just one type is more than enough for the desired effect.
Conclusion
In conclusion, decorating your own wedding reception can prove to be the best decision you make. It allows you to have full control over every aspect of your wedding and provide a truly unique experience for all the guests. Everyone will remember your wedding because your love will be showcased and visible on every corner. People will know it's real and authentic, and that's enough to make any cold heart melt. Even though this will be a long and stressful project, you should enjoy your wedding day to the fullest. After all, you've worked hard for it.