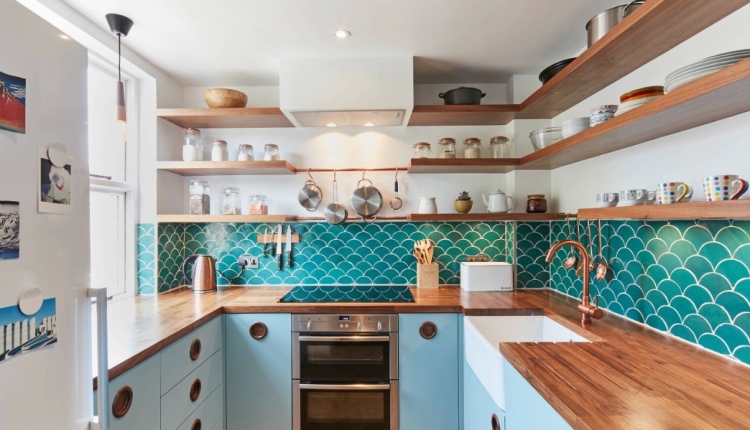 Vertical Storage Ideas To Get The Most Of Your Kitchen Space
The key to having a neat and organized kitchen is to use every inch of the space available. Drawers and cabinets are a must-have, but you should also not neglect vertical storage. This could be possible in many different ways and here you will find some ideas and tips to get inspired from.
Vertical drawers

– Besides the simple horizontal drawers, you can also have some vertical drawers. This could be a drawer at the edge of the kitchen island or maybe a one next to the oven, so that you can get the most of the space available.

Floating shelves

– Leaving the walls blank and empty should not be the case when having a small kitchen. So, how about you add some floating shelves and use this space to display your glassware and plates?

Pegboard

– Another alternative to shelves can be pegboards. They can be easily painted in any color you like and you can use to hang all types of utensils over there. If painted in some bold color can also serve to create an accent wall.
Tension rods

– Tension rods can be also added on the wall, giving you the chance to hang some of the kitchen items. You may even hang some wire baskets on these rods and use them for

storing fruit

.

Empty side of the kitchen cabinet

– The side of the kitchen cabinet is often left empty, but when there is not much space available, you can use this place for storage too. You can add a wine rack to display your wine collection, or some hooks to hang cutting boards. You can also add a towel bar to hang some pots and pans.

Hanging pot rack with lights –

Instead of choosing some plain light fixtures, you can go for a pendant light that features a hanging pot rack. So, not only your kitchen will be well lighted but you can have space for all those pans and pots. Just make sure they are low enough to catch them and high enough not to bump your head every time you pass by.
Vertical storage is definitely something you shouldn't neglect when organizing a small kitchen. So, hopefully you find the above ideas useful and you will try to incorporate such storage in your kitchen too.