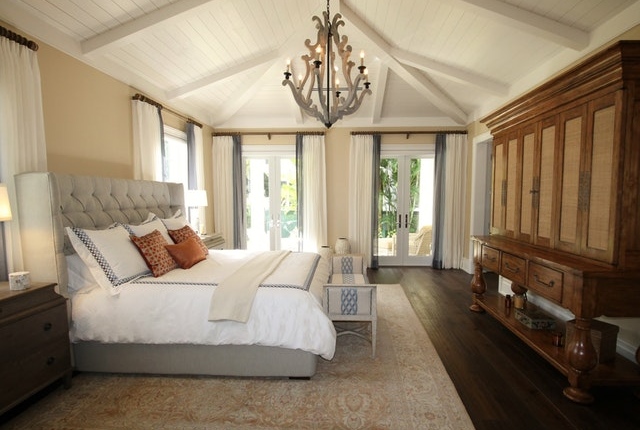 Methods Hotel Designers Use That Will Make Your Bedroom More Luxurious
Hotels that are luxurious, opulent and glamorous usually leave us feeling like we want to take a little piece home with us. The fancy décor of lavish bed linen and intriguing ornaments only add to the elegant ambiance of the room that make it feel super special. If you think this beautiful look is impossible to recreate in your own home, think again. Here's a sneak peak into the various methods hotel designers use that will make your bedroom feel more luxurious:
Accentuated Features
If you don't feel like giving your bedroom a complete overhaul, then try simply updating it with a hotel style makeover. Pick out some key features that you think could really work as a standalone piece like a luxury bar stool. This could be something as simple as an occasional chair or even a chic lamp. A protruding wall usually serves well as a feature wall, so choose a striking wallpaper that will perfectly compliment the rest of your designer furniture. You could even steal the idea of making the most of a large windowsill by creating your own reading nook, an interior designer's dream.
Glamorous, Over-the-Top Bedspread
One of the most satisfying feelings is slipping into crisp, clean bedsheets ahead of a great night's sleep. Whenever you're staying in a hotel, you're guaranteed to have an immaculate bed spread waiting for you each night. Emulate this at home with some luxury Egyptian cotton sheets, ironed for a fresh, deluxe feel. You could even squirt a couple of sprays of lavender or rose oil on your sheets for a delicate scent when you rest your head. Don't forget to add plenty of pillows and a throw for the perfect finishing touch.
Balanced Lighting
In any hotel room, you may or may not notice that there are multiple sources of light. Apart from the main ceiling lights, there are also lamps, underfloor lighting, headboard lamps and bathroom lights. Take some inspiration from this for your bedroom and you'll feel as though you're staying in 5-star accommodation every night! For the ultimate feeling of luxury, choose lights that can be dimmed to suit the mood.
Layering Textures
A hotel suite is always pristine, decorated to the highest standards with beautiful soft furnishings and décor. This is largely thanks to the textures included in the interior design. Flooring is typically wooden or tiled, usually with a fluffy rug to add a cosy feel underfoot. This is super easy to replicate in your bedroom. What's more, you could also try curtains instead of classic blinds to add yet another layer of texture.
Fresh Flowers
Vibrant, fresh flowers will instantly brighten up any space. No doubt you're used to having flowers in your living room, but have you ever tried moving them into your bedroom? It's a common hack used by interior designers who want to add a positive aura to the room. Not only this, but they'll also help to purify the air quality in your bedroom, particularly the more luscious green plants. When you do opt for fresh flowers, however, ensure they've got a delicate scent, such as peonies, roses and lilies.