A Short Guide On PNR
Guide on PNR
Many people have thought at least once in their lives about what a PNR number actually is, and what the method of its generation is. Or they may have pondered about the meaning of the 10 digits that make the PNR number. However, it's very likely that not many of them actually went and found out the answer to these questions, so let us attempt to shed some light.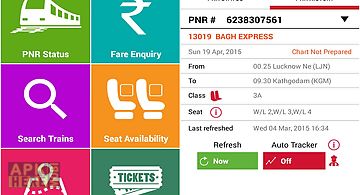 PNR 
PNR is the short form of Passenger Name Record, which is connected to vital travel information of every commuter, making it a very important thing. The information it contains includes details about the status of booking, arrival time of the train and time the train is expected to depart the station. It also contains information such as the coach number in addition to the seat number that the passenger booked. You can also find details regarding the tariff paid by a passenger, along with many other details. This information is very useful for both the railway authorities, allowing them to maintain holistic data in the unfortunate occurrence of an emergency and the customers, making train travel highly accessible.
Working of PNR
There is a database that is maintained by the railway authorities containing all the data about passengers that have been fed in during the time of buying the ticket. This database contains the PNR numbers of travelers. Each number is 10 digits long and is created whenever a ticket is bought on the IRCTC website or private websites for travel or even local ticket counters. A single PNR number allows authorities or a customer to monitor even a group of people, although not exceeding six passengers. This upper bound is created to make sure it is not possible to resell tickets illegally in bulk.
Contents of PNR Number
Data regarding passenger name, age, sex, berth preference.
Data regarding tickets, like date of departure, train number, the city of departure and the city of arrival, boarding station, reservation, the berth choice, and even quota.
The data about the Passenger Reservation System (PRS) based on which the ticket booking had been done are given by the initial 3 digits of the PNR number.
The initial digits of the PNR number are based on the training zone with respect to the station the train started at.
The last 7 digits of the PNR number are randomly generated. This creates a unique number that is used to identify the PNR number. These 7 digits contain no information about the train or the customer. Its only purpose is to create an identity.
How to Check PNR Status?
There are many ways to perform checking of PNR
One can see the reservation status with the SMS feature
In this modern age, one can also perform PNR status check using mobile apps
If one doesn't have internet access, a traditional approach can be used, by just going to the railway station and finding out the status in railway inquiry counters
Another method to check the status of PNR status is through final reservation charts
Finally, there are many private websites which can be used to achieve the same