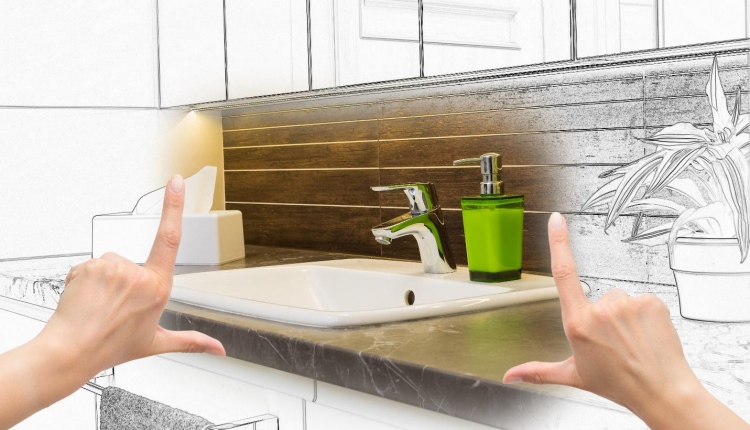 Bathroom Renovation Cost Considerations
Bathroom Renovations
An updated bathroom can improve function and enjoyment of the space. It can also add value to your property and give a good return on your investment at resale.
How much will a Bathroom Renovation Cost?
Bathroom renovation companies have a huge range when it comes to cost. There are several factors that play into the total cost of your bathroom remodel including the size of the room, type of faucets, fixtures, materials and whether you hire a renovation company or do some or all the work yourself.
HomeAdvisor estimates that the average bathroom renovation costs about $9,700 with most homeowners spending between $5,900 and $14,000. If you're just upgrading a few essentials in a small or medium-sized bathroom, you could spend as little as $3,000.
Remodeling Magazine estimates about $19,000 for a midrange complete bathroom remodel and up to $60,000 for an upscale remodel that included expanding the bathroom another 100 square feet, completely changing the layout of the fixtures and installing high-end fixtures and finishes.
As you can see, there is quite a range in cost. The best place to start is by getting a few quotes from reputable bathroom renovation companies. They can review your existing bathroom, answer your questions, listen to your ideas, make suggestions and give you a more detailed cost estimate for the bathroom renovation you want.  
Factors that Play into the Cost of your Bathroom Renovation:
Without the help of a professional renovator, determining a clear and detailed budget can take some time. Here are things you will need to consider and calculate:
If you want to move fixtures and change the layout of the bathroom, you will have to have a plumber come in and do that work for you after demolition. That will bring the cost up.

The bathroom floor's square footage and the type of flooring you want. Low-cost flooring can start at $800 where high end can be up to $7,000.

If you plan on replacing, refacing or refinishing your cabinets. Refinishing is the most affordable choice.

The size and material of your countertop. Laminate countertops are the cost-effective option with natural stone costing much more.

If you are installing a new bathtub or refinishing the current bathtub. Bathtub refinishing can be done at a fraction of the cost of a replacement.

How many tiles you have in the bathroom. You'll need a larger budget if you want to tile the entire shower or tub surround, floor and backsplash. If you want to keep it low-key, consider using tile for the backsplash and installing a fiberglass tub surround.

The type of fixtures and faucets, including the sink, tub and toilet, you are installing. Head to a bathroom supply store to scope out the prices on products you might be interested in.
The HomeAdvisor article mentioned above gives a good price estimate on all these items with examples of low-end, mid-range and upscale products and materials used. Like any home renovation, there are always cheaper alternatives and if you're willing to roll up your sleeves and do some of the work yourself, you can save on labour costs too.
For good advice, read more articles on bathroom renovations.