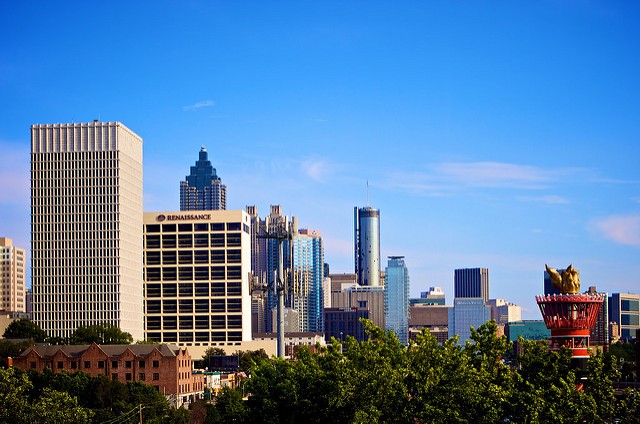 Weekend in Atlanta: 4 Wonderful Spots to Visit with Kids
Atlanta is a major business center in the United States. The city offers a plenty of attractions, and any tourist will find there a favorite activity. However, what to do in Atlanta with kids? This question arises regularly both among locals and travelers. In order to please your children while traveling to Atlanta, we have prepared several amazing options…
World of Coca-Cola
Since 1991, the American town of Atlanta is a home for the museum entirely dedicated to the legendary Coca-Cola drink. Of course, no one even doubts that this soda occupies a leading place in terms of demand.
The museum is located on Baker Street and you can use the cheapest Atlanta car rental to find it quickly. It hasn't ceased to amaze its visitors for more than 23 years and the number of people who want to see the history of the birth and formation of this grandiose brand only increase.
A multi-level, well-designed system of exposition halls allows guests of the museum to truly experience the evolution of the legendary Coca-Cola drink. It's worth noting that even if you are not a supporter of this drink, you will like it anyway.
The tour starts from the third floor, where you and your kids can see all the types of containers that has ever been used for "Coke". Various labels, stickers, posters, as well as well-known canvases by Andy Warhol are also presented. On the lower floor of the museum there is the most interesting and tasty – a tasting hall, where you cannot only try the drink in more than sixty variations, but also personally see the working process of the mini-conveyor.
Address: 121 Baker St NW, Atlanta
Atlanta Legoland Discovery Center
Even with such a myriad number of sights and interesting places, it would seem nothing can surprise your kids in Atlanta. But no. There's such a stunning place in this city where even adults will feel like children. Kids' dreams come true in this fantastic place, and its name is Legoland.
Legoland is a grandiose game complex where you can arrange a shootout of laser pistols, ride on the carousel or watch a cartoon in 4D format. But the main entertainment in Legoland is, of course, the construction of Lego bricks. You can build anything and with the largest scale.
This game center is divided into several conventional branches of different subjects. One of them is Miniland, representing the most famous buildings and places of Atlanta made of Lego parts. Everything is very beautiful and displays the city sights in the smallest detail. Among the most interesting ones are the Westin skyscraper, the Olympic Park, the Art Museum, a skyscraper with a couple of towers on Peachtree Street, the famous sign of the Varsity restaurant, as well as the main Atlanta government building.
Address: 3500 Peachtree Rd NE G-1, Atlanta
Zoo Atlanta
When traveling to Atlanta with children, be sure to dedicate the day to the zoo. In this place you can escape from the city bustle, enjoy socializing with animals, admire rare specimens of the fauna and recharge yourself with a positive energy. It's possible to spend the whole days at Zoo Atlanta without getting tired.
The zoo has been receiving guests for more than a hundred and twenty years, and during this period it has become home to more than a thousand animals of 250 different species. This zoo is also unique because its workers were able to see the birth of the babies of the toucan and giraffe, which practically don't breed in artificially-created conditions. Another interesting feature that a video camera is installed in the aviary of pandas and anyone can watch the animals online from any part of our planet.
In addition to admiring animals, children can happily spend time on different attractions available in the zoo, while their parents can rest in cozy cafes and buy souvenirs in stores. Visiting the zoo in Atlanta is an excellent option for rest: everything is fine there, and your kids will definitely like it!
Address: 800 Cherokee Avenue SE, Atlanta
Children's Museum of Atlanta
In the United States, you probably won't find at least one large city without a children's museum. The Children`s Museum of Atlanta is something extraordinary, and something that destroys all existing stereotypes of the general understanding of the museum. It doesn't look like dull galleries, but it can be compared to a huge playground, where it will be interesting not only for the kids, but also for their attendants.
In this museum your kid can become a farmer, driver, seller and specialists of other professions. Children will be able to play exciting variety of role-playing games and fantasize in different ways. There's a full-size model of a cow, which can be even truly milked.
(photo by Children's Museum of Atlanta)
For the smallest visitors, the museum provides a special area. It's equipped with various labyrinths, soft pillows, tents and a lot of rattles and educational toys. Children will be delighted with what they see and do there. Therefore, you'll need to spend at least half a day at the Children's Museum in Atlanta.
What's more, the museum is divided into certain sections of different subjects, where kids can paint directly on the walls, sculpt various items from sand, as well as read in the corner of a tiny library and engage in other very important children's affairs.
Address: 275 Centennial Olympic Park Dr NW, Atlanta