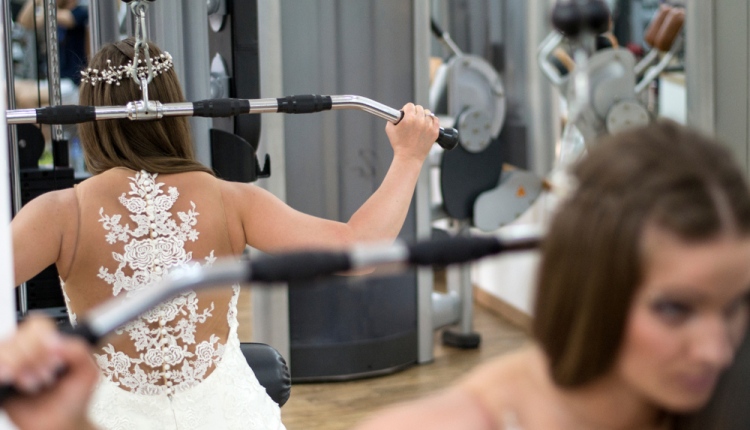 How to Reach Your Wedding Day Fitness Goals
In the midst of a seemingly never-ending list of things to do to prepare for your wedding day, you should also be focusing on getting into shape. You'll be the center of attention throughout the day and evening, and your wedding photos will be a memory to look back on forever. When you look back at this day, you'll want to feel happy and beautiful instead of being disappointed that you didn't get into better shape. Therefore, it's important to get a workout routine started.
Did you just wake up and realize that your wedding is right around the corner but you still need to get into better shape? No matter where you want to tone up, JJ's House designer, Jessica, has some great wedding exercise recommendations to share. Whether you're in a rush to tone up or are just looking to begin a more intense exercise routine before your big day, this wedding workout advice is designed to set you on the right foot.
Getting Started
If you still have a decent amount of time before your wedding day, you can start a 6-month exercise routine and get yourself into pretty good shape without completely stressing out. When beginning any new exercise routine, pace yourself. Don't focus on quick results as you might get discouraged and give up. Remember that exercising is also about feeling good and being healthy, so see this as the start of a new lifestyle change that will eventually lead o the results you're looking forward to seeing if you stick to it.
Keep a Journal
Keeping an exercise journal is a great way to track your progress so you can see your results as you go along. Sometimes, you won't even notice the way your body is changing unless you see yourself in photographs or compare your measurements as time goes on. You can even log your food in your journal, which can help you see where you might be going wrong with your diet or what you're doing right.
While it can be helpful to keep a journal, it's not healthy to obsess over your weight or measurements. Log your weight and measurements once a week
Best Exercises from Head to Toe
The main areas most women want to focus on for their wedding day are arms, abs and legs and butt. Here are some of Jessica's go-to exercise for toning these areas from head to toe. The best thing about these exercises is that there's no equipment required so you can get them done anywhere, anytime. Do at least three sets of 10 reps each every day for best results.
For arms, do arm circles, tricep dips, push-ups, pull-ups and planks. To tone the abs, stick to classic crunches, challenging planks and incorporate the legs with exercises like leg lifts, flutter kicks and bicycle kicks. Get your legs in shape by doing squat jumps, side lunges, and single-leg hip raises. These exercises are also great for toning the bottom. Be sure to get at least 30 minutes of cardio in each day as well, which will help every area of your body as well as your heart and mental health.
Follow Jessica's tips above to get in your best shape for your big day.