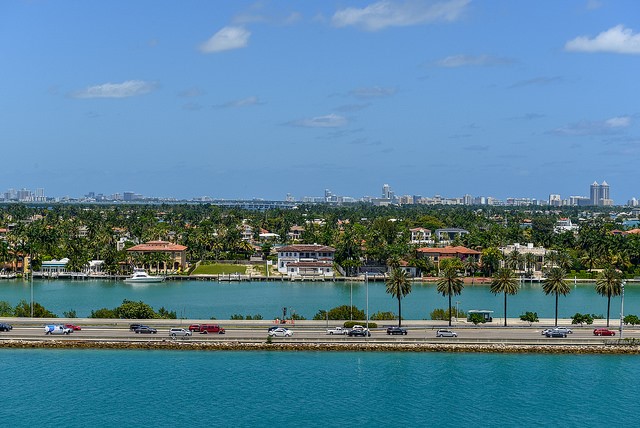 Ecotourism in Miami: 7 Stunning Spots for Nature Lovers
Very often, the sights of Miami are associated mainly with beaches, architectural buildings, historical monuments, parks and museums. However, few people know that the main natural wonders of Miami are situated in its rural area – Redland, which is a collection of agricultural land about 20 miles away from southwest of Miami. Therefore, if you are a fan of ecotourism and you are interested in the natural wealth of South Florida, then Easirent car rental MIA will be a great way to get to them.
Below you'll find is a selection of the best places in Redland that you should definitely visit…
Fruit & Spice Park
(photo by bobnienhuis)
Jackfruit, pouteria sapota and other amazing fruits are offered in Fruit and Spice Park. This park covers 15 hectares, where fruits from Asia, Africa, Australia, Central and South America grow. A walk through Fruit and Spice Park will give you an unforgettable experience, because where else can you be surrounded by numerous exotic trees. By the way, fruit picking is prohibited there – you can try only fallen fruits. A trip to Fruit and Spice Park will help you to expand your cultural horizons and awaken your tropical taste buds.
Monkey Jungle
(photo by Bjorn Watland)
Created in 1933 as a free colony for monkeys, Monkey Jungle numbers more than 25 species of primates native to South America, Asia, and Africa. Monkey Jungle is an interesting place where you can interact with these intelligent creatures like never before. Visitors have the opportunity to feed primates raisins from small dishes. Training presentations with the help of experienced guides will make you both laugh and cry – a kiss from an orangutan will cause you smile and at the same time remind you that these monkeys are endangered all over the world.
In 1994, archaeologists discovered 10,000-year-old human teeth, fossilized bones, and a tiger's canine in a drainpipe at the Monkey Jungle site, making it one of the largest archaeological discoveries in South Florida. On the territory of the jungle there's also a souvenir shop where you can buy goods that remind of a pleasant tour to the Monkey Jungle. Of course, this is an ideal place for children.
Robert is Here
(photo by Jennifer Huber)
In this family-friendly fruit paradise, you will discover the juicy bounty of seasonal fruits and vegetables, the unforgettable smell of delicious marinades and dried spices, as well as the extraordinary taste of sauces, honey, nuts, chutney, jelly and jams, mustard and milk. Cooking fans will appreciate the culinary innovations of Robert is Here. The history of the creation of this store is as impressive as it is.
Once Robert's father, when he was only six years old, ordered to sell the family crop of cucumbers on the same corner where the famous Robert is Here is located today. The activity was very boring for a young boy, but in 1959 he turned it into a prosperous business. Your children will also have something to do in Robert is Here, because there is a wonderful zoo on its territory…
Schnebly Redland's Winery
(photo by The PreppyDude)
The owners of Schnebly Redland's Winery, brothers Peter and Denisse Schnebly dreamed of creating a real oasis, and their mission was clearly accomplished. Having tasted their wines made from tropical fruits, it seems that you set foot in a Polynesian paradise. After experimenting with fruit fermentation in the garage, the rumor about the delicious tropical wine of the brothers spread throughout the district, and after some time this famous winery was born.
Try all the flavors in their tasting room, and then go outside to take a walk in the places where fruits are grown. Recently, Schnebly Redland's Winery has added a beer that is also brewed from the best tropical fruits of South Florida.
RF Orchids
(photo by readontheroad)
Orchid fans and amateur gardeners will have a great time and always find what to see at RF Orchids, which is a 40-year-old supplier of exotic orchids and has more than 900 awards for their cultivation. Visitors can enter the tranquil garden and examine in detail the extensive selection of orchids and other thriving hybrids.
Qualified staff will gladly organize an entertaining tour and will answer any questions from newcomers to orchid cultivators. RF Orchids is not only a place for orchid lovers, but also a spot where you can buy your favorite plant from the extensive catalog of orchid varieties.
Burr's Berry Farm
Burr's Berry Farm is another must-see place in Redland where you should stop to buy fresh strawberries and delicious milkshakes. Since its founding in 1965, Burr's Berry Farm has become one of the gems of tropical South Florida. For decades, people have been enjoying its delicious treats, including chocolate-covered strawberries, homemade jams, ice cream, freshly steamed hot dogs, and other fresh foods. Personally for yourself, you can pick fresh ripe strawberries from a modern vertical growing system, or buy a few jars of tasty jam with you.
Knaus Berry Farm
Knaus Berry Farm is a real paradise for lovers of fresh bakery products, as well as fruits and vegetables. Despite the fact that the farm began to work more than 50 years ago, it's still known for its tasty cinnamon rolls, creamy milkshakes, pepper jam and other crispy products and more juicy snacks. If you have time, feel like a real farmer – pick strawberries and tomatoes for yourself on Knaus Berry Farm.