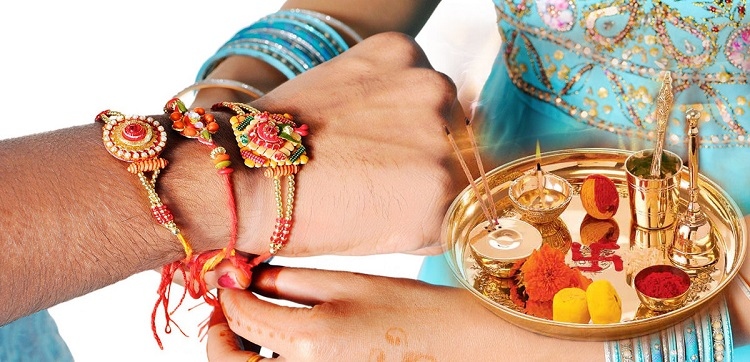 How to Turn this Raksha Bandhan Into An Ever-Memorable Event
Rakhi also is known as Raksha Bandhan is an Indian festival that stands for the most sacred relationship between a brother and a sister. It is basically a Hindu festival that reinstates the bond of love, affection, and trust between a brother and a sister. On this auspicious day, sisters express their love by tying the sacred thread called Rakhi on their brothers' wrists whereby the brothers take the responsibility of his sisters protection from all the evils of the society. Brothers celebrate this day by giving beautiful gifts with love to their sisters. The sacred thread called Rakhi is beautified with different types of embroideries, stone works and other metals that make it more enticing. There are different types of attractive Rakhis available online and some of the most popular Rakhi options are golden Rakhis, silver rakhis, designer Rakhis, kid Rakhis etc.
This festival is celebrated with full enthusiasm and spirit among all.
This year, you want to celebrate this holy and love-filled festival by purchasing the perfect gift items for your dear sister. Most of the situations where people get stumped are when it comes to deciding on what to buy for the sisters. To take care of this particular situation, this article helps you with some ideas on what you can buy for your sister on this special occasion. Now, this article tells you about the most heart touching gift ideas for your sister on the festival of Raksha Bandhan.
Clothing and Fashion Accessories:
If your sister is a teenager then you would do just fine by opting for fashion accessories like belts, scarves, stoles, handbags or different types of trendy wrist watches as gifts for her. You can also consider gifting her nice dress or tops. When it comes to buying clothes for your sister, you would do better to take her for a shopping time with you so that you won't have any confusion about what she likes and dislikes.
Beauty and Make Items For Your Beloved Sister:
Name a girl who doesn't appreciate the gift of beauty items or cosmetic products. Can you really name it? Girls are almost crazy about beauty cosmetic products. Ask your sister about the type of cosmetic products that she wants to have. You can either check if the product is available in your local beauty products and make stores. If you want to get a good discount deal, you should buy it from a reputed online store as most of the popular beauty products stores online provide great discount deals on their products.
Delicious Cake
Make the Raksha Bandhan this year ever memorable with a cake cutting ceremony. We all know the fact for sure that cakes have always regarded as one of the most crucial parts of celebrating any kind of happy occasion and Raksha Bandhan is not an exception to it. If your sister stays in Bhopal, you can easily go for online cake delivery in Bhopal. These days most of the online cake stores offer free cost delivery of cakes at any given address.
House Decorating Gifts for Married Sister:
If you are looking for a gift for your sister who happens to be married then you can buy her something for the house. A nice cutlery or crockery set could be an excellent gift idea. If your sister really loves cooking, buying a cooking appliance could be a perfect gifting idea for your sister.
A Cash Hamper:
Your sister is in college and she definitely needs a great movie watching and dinner time with her college buddies. How about gifting her a cash hamper so that she can spend in her own way? The best part of gifting cash is that your sister can buy her favorite things in her own way.
Make this Raksha Bandhan really special and ever-memorable for your sister by purchasing the most heart touching gifts for your sister.